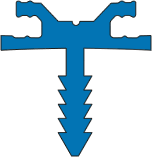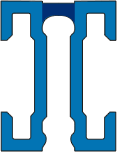 We recommend:
Drill a pilot hole before screwing
Preparation workshop:
1 screw at each end and then pointed to the pneumatic stapler all (approx.) 100 mm
On site:
Screws over the entire length all (approx.) 150 mm

Be sure to shorten the spacing between the fixing points (screws or staples) during use of closed angles.
Caution: In the end, the profile C (T19.C) is not a hinge, but a variable angle.